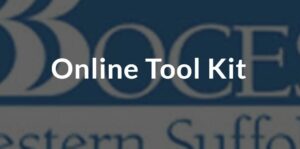 In an effort to support educators in the 18 component school districts in Western Suffolk BOCES, the Division of Instructional Support Services has created the Western Suffolk BOCES Online Tool Kit. This Tool Kit contains links to resources educators can draw upon to create distance learning opportunities for their students.
The Tool Kit offers resources in all academic areas, including distance learning, webinars, articles and more. The focus is on free resources or resources that will be free to access for the remainder of the school year due to the COVID-19 pandemic. The Tool Kit will be updated frequently as Western Suffolk BOCES works to support educators and students  during this challenging time.
Access the Western Suffolk BOCES Online Tool Kit here.