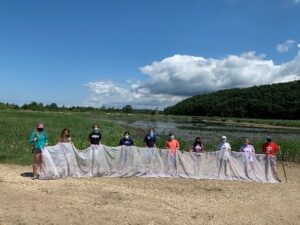 During July 2020, the Outdoor Environmental Education Program successfully operated a weeklong day camp for high school students from across Long Island.  The camp was made possible by a generous grant from Avalon Nature Preserve based in Stony Brook.
Through the program, students in grades 10-12 were exposed to the dynamic field of marine biology.  Their experiences included a post-mortem investigation of a seal to determine the cause of death, building and flying remote operated vehicles, and seining for organisms in the Sunken Meadow salt marsh.  This camp was especially meaningful this summer as it offered students an opportunity to learn and safely socialize with peers who have similar interests during a time when the in-person interactions were rare.
The OEEP looks forward to restoring the Marine Studies residential program and offering this camp to middle school students during the summer of 2021.  Updates will be provided in the Spring of 2021.