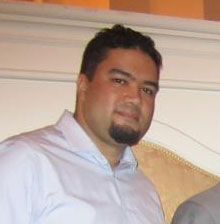 Find more photos, easier navigation, and great content on your cellphone, tablet, laptop, or desktop on the re-designed website of Western Suffolk BOCES thanks to a 1998 graduate of Wilson Tech!
After BOCES evaluated several bid proposals, the website re-design project was awarded to Maxburst, an award-winning website design and digital marketing company in Farmingdale. During the initial design planning, it was clear that the Maxburst team had a firm grasp of the students who attend Wilson Tech and what BOCES could do to make the website appealing to them. No wonder! Donny Escolastico, Maxburst's lead art director and a partner in the business, completed Wilson Tech's computer electronics course.
"A friend recommended Tech and those two years were the best years of my high school. I liked meeting students from different schools," remembered the West Babylon native. After Tech, Donny attended Nassau Community College and then earned his Bachelor's of Fine Arts from Briarcliffe College.
BOCES is also re-designing the Wilson Tech website which will launch in the coming months. Come back to see the changes! Employees will notice that they can log in directly to the BOCES intranet by clicking on Employee Portal in the top navigation bar. That will also have a new look soon!