Congressman Thomas Suozzi (D-Long Island/Queens) visited Western Suffolk BOCES March 27, 2018 at the invitation of Michael Flynn, Chief Operating Officer, to discuss federal matters of interest to the 18 component school districts.
At the roundtable meeting, school district superintendents discussed with the Congressman their concerns about school safety, affordable health care, federal school funding and support for mental health and substance abuse services in schools.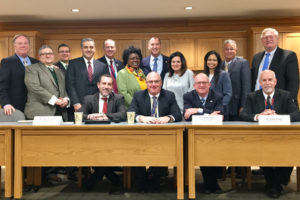 "We very much appreciate Congressman Suozzi meeting with us to hear our concerns for our students and communities," said Flynn. "We value an open dialogue with our elected representatives and look forward to continuing to work with the Congressman on these important issues."
Attending the meeting were (from left) Dr. Donald James, Commack; Daniel Giordano, Lindenhurst; Glen Eshbach, North Babylon; Dr. Francesco Ianni, Harborfields; James Polansky, Huntington (seated); Dr. Patrick Harrigan, Half Hollow Hills; Dr. Mary Jones, Wyandanch; Robert Banzer, Northport-East Northport (seated); Congressman Thomas Suozzi; Eva Demyen, Deer Park; Dr. Timothy Eagen, Kings Park (seated); Dr. Yiendhy Farrelly, West Babylon; Dr. James Grossane, Smithtown; Robert Fenter, Cold Spring Harbor (seated);and Michael Flynn, Western Suffolk BOCES.