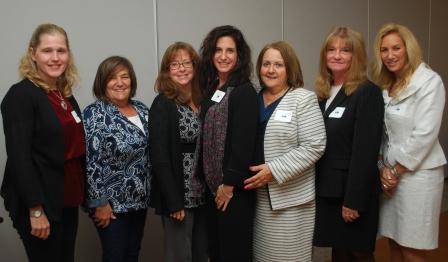 Congratulations to the BOCES team that prepared the application package for the successful COE re-accreditation (from l. to r.) Kelli Byrnes, Ila Gaffney, Joyce Brozyna, Kristine Shanteau, Rosemary Nagler, Kathi Baker, and Debra Montaruli.
The Commission of the Council of Occupational Education concluded its review of the eight full-time adult programs at Western Suffolk BOCES and has re-accredited Medical Assisting, Practical Nursing, Diagnostic Medical Sonography, Surgical Technology, Cosmetology, Esthetics, Auto Technology, and Aviation Maintenance Technology for another six years.
At the conclusion of their three-day site evaluation last fall, reviewers gave the highest marks to the instructors and graduates of these eight programs. This nationally recognized accreditation from COE enables BOCES to continue to offer federal financial aid to those who qualify.
The Council on Occupational Education accredits postsecondary institutions that offer career and technical education. The Council is recognized by the U.S. Department of Education for accrediting non-degree-granting and applied associate degree-granting postsecondary occupational education institutions.
"COE accreditation signals that BOCES adult programs provide high quality teaching and learning experiences that help prepare adults to enter today's workplace with the skills that employers demand. We are extremely proud to have this national accreditation," noted Nancy Kelsey, Executive Director of Career and Technical Education at Western Suffolk BOCES.
For information about any of the full-time programs for adults at Western Suffolk BOCES, go to www.wsboces.org/fulltime, or call 631-667-6000 ext. 320.