Last February, students at James E. Allen Jr./Sr. High School hosted television chef and cookbook author Lidia Bastianich. Last week, she returned the hospitality by welcoming students at Eataly in New York City.
The Western Suffolk BOCES students were treated to a VIP tour October 13 of Eataly, an Italian marketplace, restaurant and cooking school owned by Bastianich and her partners. The students saw how mozzarella and dough are made during hands-on demonstrations and were treated to tasty samples of roast beef and gelato.
The tour concluded in the cooking classroom where Bastianich answered enthusiastic and thoughtful questions from the students and offered cooking tips. Each student went home with a goodie bag complete with pasta and sauce.
"Our students have not stopped talking about how much they learned on this trip and how much they enjoyed spending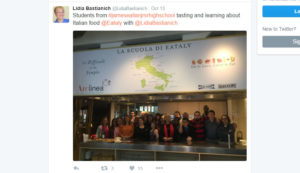 time with Lidia," said Regina Giunta, Principal. "We are very grateful for her kindness and generosity and hope she visits us again soon."
James E. Allen Jr./Sr. High School, part of Western Suffolk BOCES, serves students ages 12 through 21 who present a range of disabilities and require intensive support. Classroom instruction incorporates the Common Core Learning Standards, and major emphasis is on developing life skills so students may be successfully placed in a supportive work environment upon graduation.