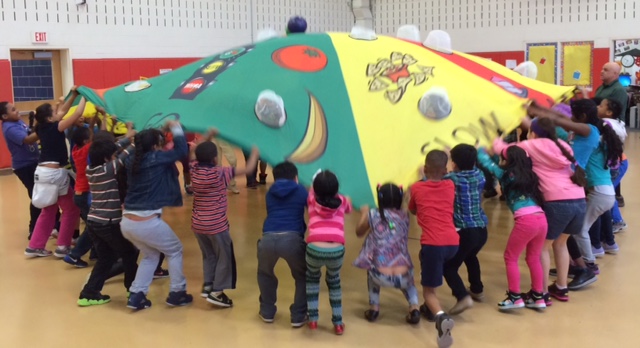 Students at LaFrancis Hardiman Elementary School in Wyandanch celebrated a nutrition lesson with physical activities using a parachute. Physical education teachers, under the guidance of PE Director Gloria Ruppert, used the Go-Slow-Whoa parachute that Healthy Schools NY, a project sponsored by the Western Suffolk BOCES' Division of Instructional Support Services, secured for the school district.
Earlier this spring Dr. Mary Jones, Superintendent of Wyandanch, led students and staff in a Walk for Health. The district has been addressing the connection between good nutrition and physical activity for optimum health.
The Healthy Schools Initiative works with school districts to build policies that promote healthy nutrition and active learning environments to ensure healthy and successful youth. For more information about other actions that schools can take to help improve children's health, contact Dr. Karyn Kirschbaum, School Health Policy Specialist, at 631-595-6816.