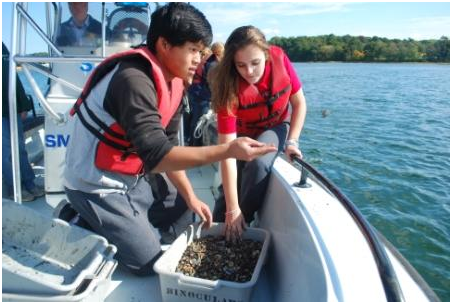 Connetquot High School students scatter immature clams into Stony Brook Harbor. The students built rafts where the clams grew free from predators over the summer. Once in the local estuaries, the clams will continue to grow so residents and fishermen can enjoy them next summer and they can help filter the bay waters.
Two groups of high school students pulled on waders and life jackets and scattered 200,000 immature clams into Mt. Sinai Harbor and Stony Brook Harbor in fall 2014 in hopes of restoring local estuaries with hard shell clams.
Students from North Babylon and Connetquot High Schools spent a year studying the coastal waters of Long Island and the important role that clams play in keeping the ecosystem healthy. The Hard Shell Clam Mariculture Project is run in cooperation with Western Suffolk BOCES, New York New York Institute and Technology, the Division of Environmental Protection in the Brookhaven Department of Planning and Environment, and Smithtown's Department of Environment and Waterways.
Starting in January, Outdoor Education Specialists from BOCES taught clam dissection, the history of clamming and the shellfish industry on Long Island, current shellfish management practices, raft building, and growing seed clams while a culinary instructor from Wilson Technological Center demonstrated proper techniques for preparing and serving clams.
In the late spring, students built rafts, filled them with sand, and then scattered seed clams on the sand where they hoped the clams would burrow down and grow. The rafts were pushed into the two harbors where over the summer students monitored their growth by carefully measuring the tiny clams as well as removed predators such as crabs from the rafts.
In October, the bay constable brought the rafts to docks where students shoveled off the sand being careful to leave the small clams that were put in bins to be hauled onto a waiting boat. The students then boarded the bay constable's boat and scattered the immature clams into the bays where they can grow and begin their job filtering bay waters and serving as a resource for families and commercial fishermen.
"It has been an exciting year," said Malynda Nichol, BOCES Outdoor Education Specialist. "Students gained an understanding of marine ecology, anatomy and physiology of hard shell clams, scientific procedures used in mariculture research, data collection and evaluation, and the socio-political issues involved in the shellfish industry."
For more information about the BOCES Mariculture program or the clam seeding project, call 631-360-3652.