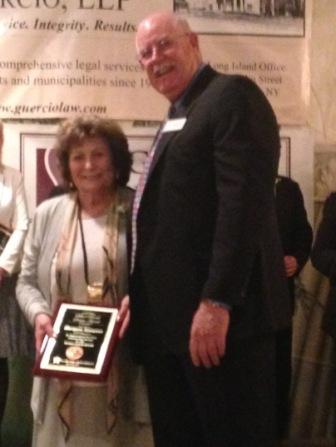 Maryann Zumpano (l.), president of the Board of Western Suffolk BOCES, was honored for her dedicated service at SCOPE's annual spring awards night. George Duffy (r.), Executive Director of SCOPE, acknowledged her for her 35 years of service to boards of education (Smithtown's for 15 years and Western Suffolk BOCES' for 20 years) where she has been a true advocate for children.
Her votes reflect her belief that every child has a right to an education that prepares him or her for a fulfilling and independent life. Her peers on both boards recognized her leadership skills, her sense of humor, and her sincerity and elected her as their president.
She developed her attention to detail working for a local engineering company; SUNY Empire State College as a student assistant and informational consultant; and for the NYS Archives and Records Administration where she help local governments set up records management systems and applied this valuable skill to her duties as a board member. She holds a bachelor's of professional studies in business management.