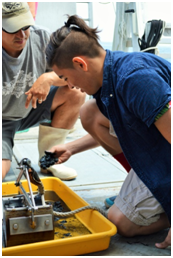 In July, 17 high school students from Brentwood, North Babylon, Center Moriches, Bayport-Blue Point, Lindenhurst, and South Huntington school districts participated in a 5-day, 4-night intensive summer science camp, the Marine Science Enrichment Program (MSEP).
Through fieldwork and hands-on lab investigations, students examined the abiotic and biotic factors of both north and south shore environments. Students collected data and sampled organisms at each of the different environments.
Back in the classroom, students analyzed the collected data, compared and contrasted the different environments, and performed various investigations and experiments. Topics included marine mammals, organism adaptations, Long Island geology, and ecological relationships such as food webs and biological community structure.
MSEP is funded through a donation from the Avalon Park and Preserve and is offered at no cost to participants. For more information, call (631) 360-3652.