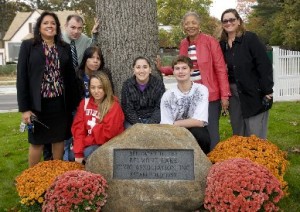 While the controversy about Common Core is still in the news, teachers at Brennan High School have embraced the NYS Learning Standards and the Common Core. They have been working to differentiate their teaching methods to meet the wide range of learners. Wherever they can, teachers are addressing the Learning Standards across various disciplines to enrich the students' knowledge base in different content areas.
To help prepare students to pass the required Regents exams, teachers continue to work with the curriculum consultants who help them review the data from past Regents exams. This information helps the classroom teachers to identify areas of student weakness so they know how to plan their lessons.
Currently 140 students are enrolled at Brennan, primarily because the school offers a high level of therapeutic services and support for those who have psychiatric concerns. Districts continue to recognize the valuable role this school plays in helping them meet the needs of students who might otherwise slip through the cracks.