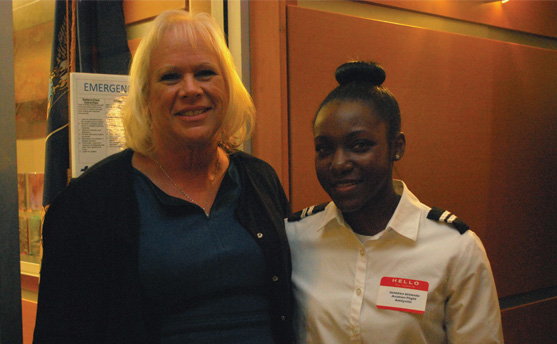 Shaneka Bernard, a second-year student in Aviation Science/Flight at Wilson Tech's Republic campus, was presented a $500 scholarship from Kathy Vento, Suffolk Region PTA Director, at the BOCES annual PTA Night for her outstanding performance at Wilson Tech.
Shaneka attends Amityville Memorial High School where she is an AP student in the top 10 % of her class as well as a member of several honor societies and a recipient of countless awards. At Wilson Tech, she is a member of the National Technical Honor Society, Renaissance Award Program and the president of the afternoon session of SkillsUSA.
For the second year in a row, Shaneka won first place in the Aviation contest of SkillsUSA's regional competition. She will represent Long Island at the NYS competition in April. Shaneka recently received the Congressional Nomination to attend the Military Service Academy at West Point. She has also been admitted and offered a lucrative scholarship to Embry Riddle Aeronautical University. Shaneka aspires to be a First Officer and/or Captain for a major air carrier. She credits Wilson Tech for putting her on the right trajectory.