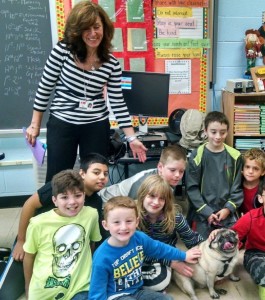 Imagine learning to read with a partner that's always attentive and never criticizes when you've stumbled over a difficult word. Students in the ALC program at DeLuca Elementary School have just the partner…Gigi the Pug! Yes, each week Little Shelter brings a pug dog into the classroom for reading aloud and individual reading time.
Gigi joins the group at the reading table where each student reads a passage to Gigi. Later the students have individual time with the dog as each sits on a blanket and reads Gigi his/her favorite story. The students say Gigi is an active listener who quite obviously enjoys this individual attention.
The DeLuca ALC students always invite the mainstream kindergarten class and the special needs students in the building to join them in their reading activities. This innovative reading program has significantly improved the reading fluency of ALC students just as it has increased their confidence and their public speaking ability.
To celebrate the "Gigi Program," the entire school is invited to an end-of-the-year assembly when Little Shelter brings some of their resident pets and teaches the students about pet safety and pet care. Kudos to the ALC staff for starting this trailblazing program nine years ago—it not only has proven to have great academic value, but it has helped integrate ALC students into the fabric of the school.