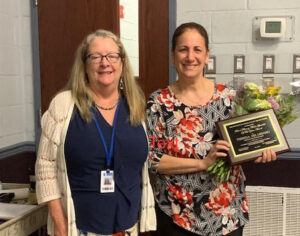 The Western Suffolk BOCES School Library System (SLS) recently hosted its seventh annual Leadership and Information Symposium, which featured informative presentations, collegial discussions and honors for deserving instructional leaders.
Western Suffolk BOCES was one of a dozen entities across the state that streamed the event to in-person audiences that collectively included more than 800 school libraries and district administrators. Presentations on intellectual freedom and access, the legal aspects of challenges to materials, and the policies and procedures school districts could consider to address challenges were sponsored by the School Library Systems Association and the New York Library Association Section of School Librarians. Attendees shared that the presentations were informative, important and timely.
The symposium was also an opportunity for the Western Suffolk BOCES SLS members to celebrate their colleagues. Theresa Del Orfano of the Lindenhurst School District was honored with the 2022 Librarian of the Year award. Del Orfano, who has worked in Lindenhurst as a library media specialist since 1993, considers a library a place where students can escape from the stress and demands of the classroom. She works to instill a love of literature and reading for information as well as pleasure.
Joseph Monastero, Executive Director of Instructional and Administrative Technology at Cold Spring Harbor Central School District, received 2022 Administrator of the Year honors. Monastero has held a number of roles in the district during his 25 years there, including teacher and vice principal, and is currently a member of the Data Advisory Board for Eastern Suffolk County. He has presented at a number of events throughout New York State on technology-related topics, ranging from internet safety and virtual reality to the integration of technology in schools.
The SLS members also congratulated their colleagues Irene Kossowsky of Elwood UFSD, Lisa Lindeman of Babylon UFSD, Patty Lopez of Commack UFSD and Patti Neville of West Babylon UFSD on their retirements.
The Western Suffolk BOCES School Library System is one of 40 in New York State that provides access to NOVELNY and other electronic information databases that include the full text of magazines, newspapers, e-books, and more. The system facilitates resource sharing and provides professional development opportunities for school librarians, other educators and administrators. School Library Systems connect with the New York State Library as well as public, academic and special libraries for access to specialized resources and collaboration.