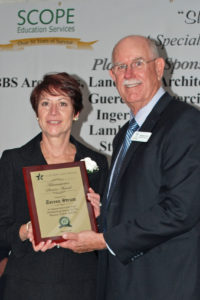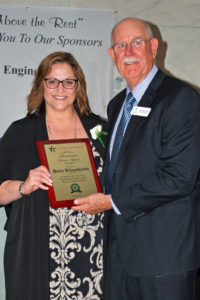 Two Western Suffolk BOCES administrators were honored by SCOPE at the organization's 16th annual School District Awards Dinner Monday, March 20. Paula Klingelhoefer (photo right), Senior Executive Director of Personnel and Instructional Support Services, and Teresa Strum (photo left), Executive Director of Special Education, received Administrator Service Awards in recognition of their years of service to Western Suffolk BOCES. SCOPE Executive Director George Duffy made the presentations.
Klingelhoefer joined the agency in 1985 and has taken on a number of positions leading to her current post, in which her responsibilities range from labor relations and personnel administration to fiscal management and program development for the Division of Instructional Support Services.
Strum began her career in education as a teacher at the James E. Allen Elementary School. As Executive Director, she is a driving force for innovation and excellence, implementing programs that encourage student success and providing staff with support to meet more rigorous expectations.