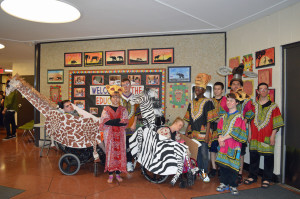 Broadway came to James E. Allen Junior/Senior High School and the only thing louder than the roar of the talented cast of The Lion King was the thunderous applause.
The school's Drama Club presented the musical to parents, friends and special guests in evening performances May 12 and 13 and to students in other Western Suffolk BOCES programs during a matinee May 13. All were captivated by the dazzling performances, spectacular staging and imaginative costumes. The school's gym was transformed into an African plain, complete with lions, hyenas, zebra, giraffes and exotic birds, some of which also moved throughout the audience. More than 70 students were involved in the performance, including those who worked behind the curtain.
Outstanding in their lead roles were Bashaar DeWitt of Huntington as Rafiki; Antoine Chappell, Deer Park, Mufasa; Katlyn Cummings, Commack, Sarabi; Javier Salinas, Copaigue, Zazu; Joshua Shoulton, East Northport, Scar; Brandon Clarke, Amityville, Simba; Karina Brazzi, Babylon, Nala; Morgan Rooney, Deer Park, Sarafina; Harrison Kaplan, Nesconset, Banzal; Michael Guerin, Commack, Shenzi; Trevor Hauer, Huntington, Ed; Lynn Williams, Wyandanch, Timon; and Bryant Marmol, Copaigue, Pumbaa.