Michael Flynn, Chief Operating Officer, and Peter Wunsch, president of the Western Suffolk BOCES Board, traveled to each BOCES school to personally welcome employees to the opening of the new school year on Sept. 1. Classes begin on Sept. 2.
Caption: Assistant Principals Chris Jackson (l.) and Mark Campbell (r.) welcome Peter Wunsch (second, l.), Board President, and Michael Flynn (third, l), Chief Operating Officer, to Wilson Tech on Opening Day.
---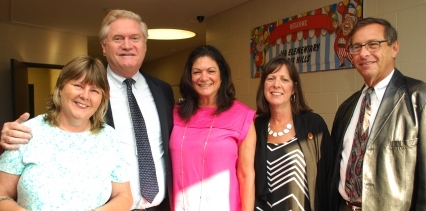 Caption: Another welcome committee consisting of (l. to r.) Edie Tillquist, paraprofessional; Gina McManus, Reading Coordinator; and Bonnie Wojcik, teacher; greets Mr. Flynn and Mr. Wunsch at JEA Elementary School on Opening Day.