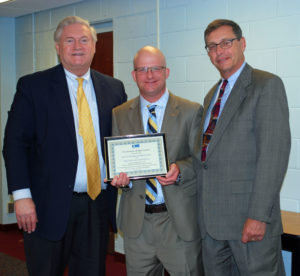 For the last 30 years, more than 3,200 adult students have earned local high school diplomas as a result of a partnership between Western Suffolk BOCES and the Kings Park and West Babylon School Districts. In recognition of that partnership, the BOCES Board of Education presented the two districts with Proclamations of Appreciation.
The External Diploma Program is a competency-based program for adults age 21 and older who are unable to attend classes or prefer to work from home. The adult students receive credit for the life experiences and meet with Western Suffolk BOCES advisors weekly to complete the requirements. Each spring, the Kings Park and West Babylon School Districts hosted ceremonies at which the local diplomas were issued to the students who completed the program.
Although the local diploma component of the External Diploma Program has been eliminated by New York State, Western Suffolk BOCES continues to offer the program and others to help adult students complete their education.